I have always enjoyed the custom car, lead sleds, of the late 40s and early
50s. The shaved, lowered, chopped, channeled and Frenched simplicity
always highlighted the overall original design of the car.
For the past couple years I have been struggling with a number of different
ideas for the rear of my 84T.
For ten years I had a Kaminari rear skirt on the Z, but I never liked the
long over hang of the bumper and the Kaminari was just a bit on the ricey
side to my taste.
I liked Butter's idea but without the bumper shocks, there wouldn't be
much protection.
I figured with just a bit of metal work I could extend the tail light area
to minimize the bumper over hang.
I looked around for a lot of ideas. Some of you might be familiar with
Zparts.com's Custom Z Car Tail light Ideas
which has some interesting
treatments.
The problem is to find tail light that are not easily recognizable.
I bought a set of Altezza tail lights that have a bit of a Ferrari look to them
and did a bit of surgery to remove the lenses. To take that idea a bit further
I would fill the area around the lights with CF and pop the whole thing in to
the existing space. Once a did a couple drawings, I could see that wasn't
going to work either.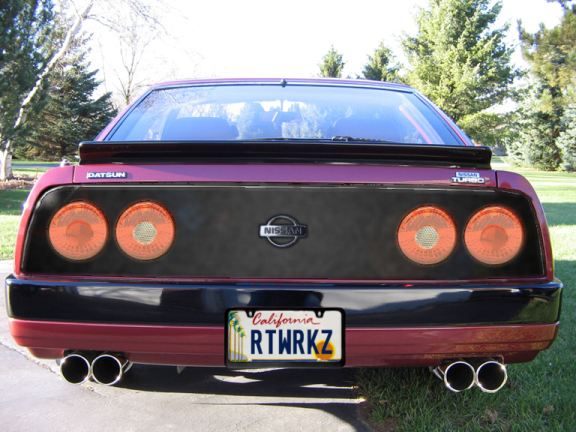 I collected a bunch of images of rear ends that had elements that I liked.
The over all shape of the Z31 is very classic. Adding a bunch of non functional
bumps, bulges and scoops just detracts from the overall beauty of the car.
All the body modifications I have planed have been with a minimalist intent
... different but not overdone.
The last drawing is what I came up with over the last week. It will be a bit
more metal work that I originally planned.