I was never really happy with the amount of light that the Z31 puts down on the road. I replaced the glass with brand new looking pieces from a car out in California. I changed over to Sylvania Silverstar bulbs. I still wanted more. I did some research on changing over to High Intensity lights, and found that there were two options. One was to find a set of OEM HID headlights and circuitry from a donor vehicle and adapt them to the Z. The other was to install a retrofit kit that fits into the stock 9004 bulb's socket in the stock headlamps. I went with the retrofit kit, as it is hard to beat at $200-300. I chose 6000K color temp, which provides a crisp bright white, without being blue, or trading temperature for light output as the 8000,10000, etc do.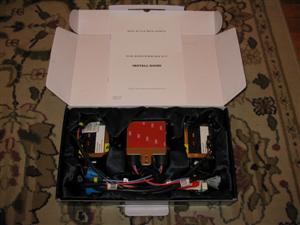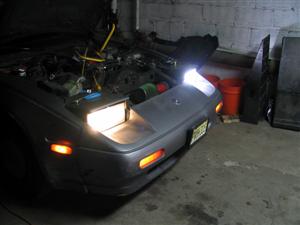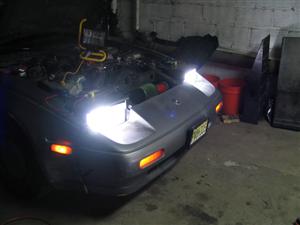 The difference is incredible. I highly recommend it. Installation is extremely simple.
More pics and install info over at
the page about it
at my site.
Tom