Seeing as how it worked and didn't blow up right when I started the car, I suppose I can show it off

Before christmas I pulled my engine out of my 85 and started jigging up a relocation set up for a holset turbo for my N/A. I didn't want to do the stock turbo install as I figured it would be easier relocating the turbo some where else where I dont need to worry about the crossmember, alternator and stuff. I dont know if it was easier? but what ever.
Everything worked out soo smooth. I couldn't beleive how everything that looked impossible to fit, fit perfect. Turbo, down pipe, waste gate...etc.
I'm only running 5 psi right now, and I think I'll stick with that until I get a new clutch. I figured An oem turbo clutch would last a little while, but i dont even know if I'll get that. Seems to spin pretty easy when I punch it.
But anyway, here are some pics.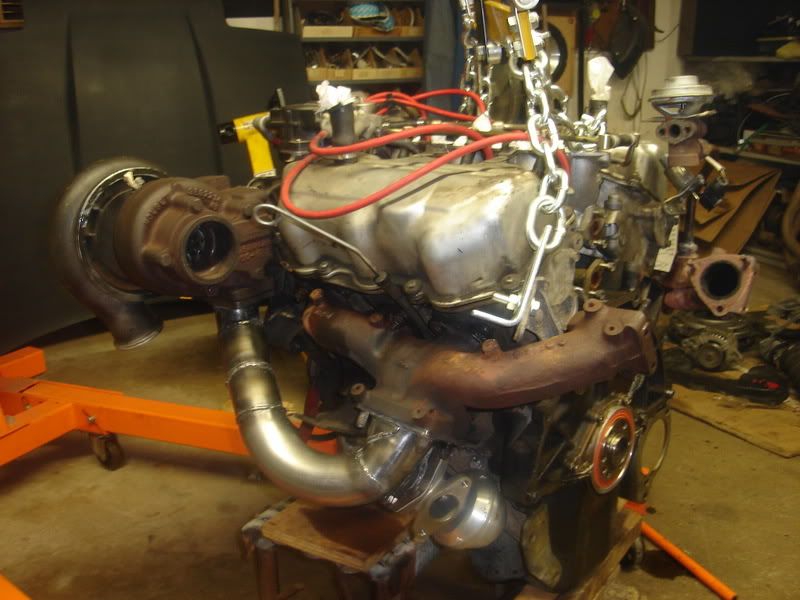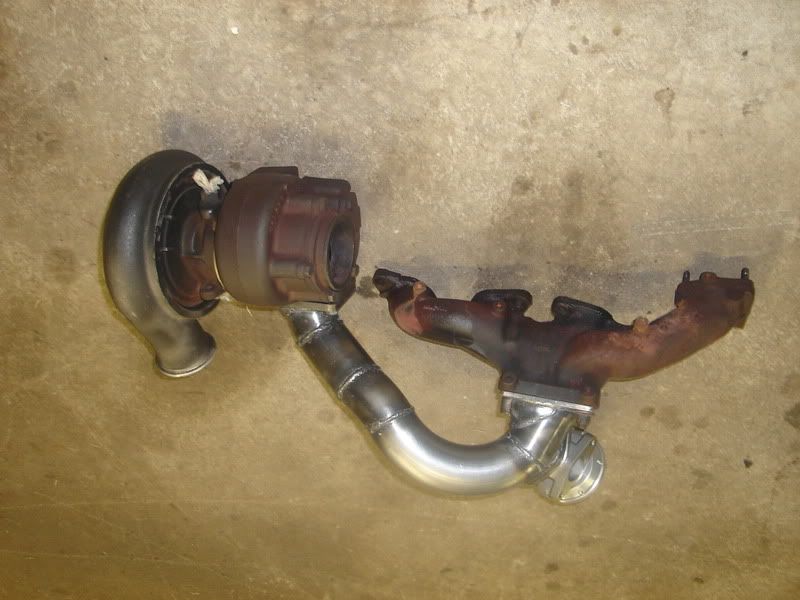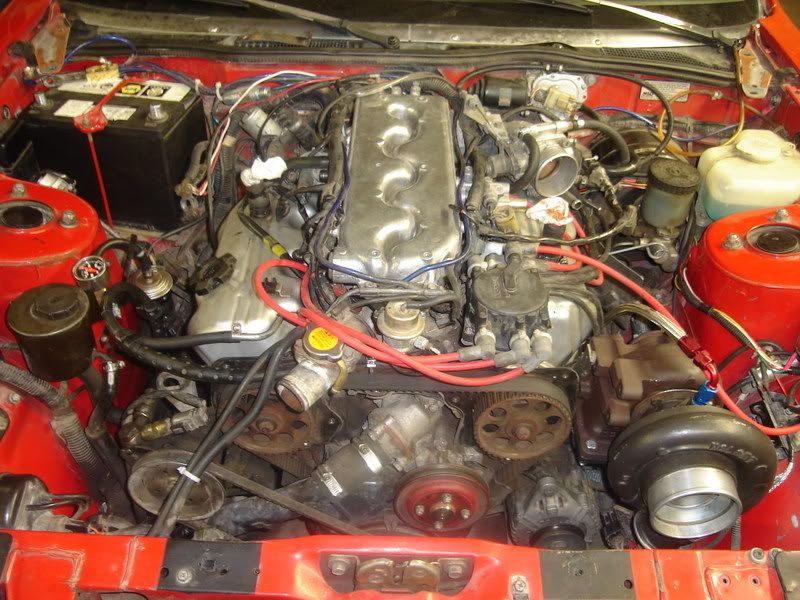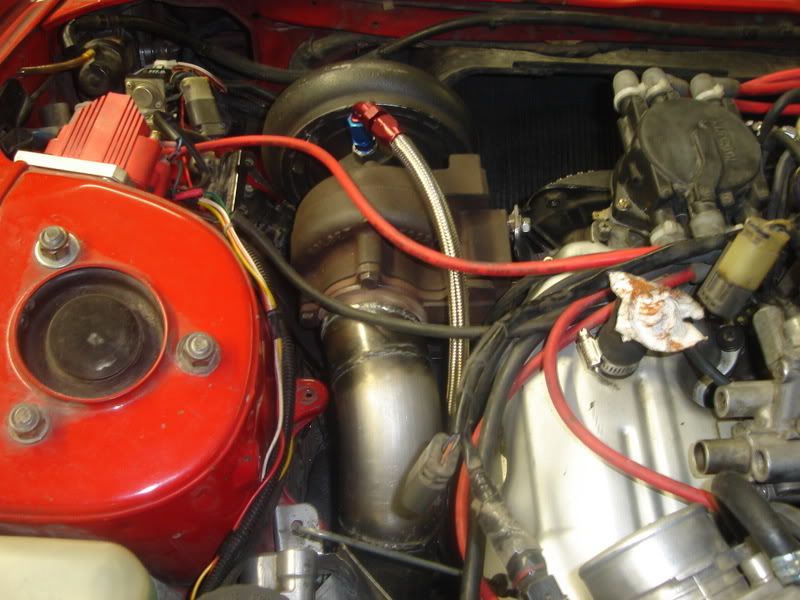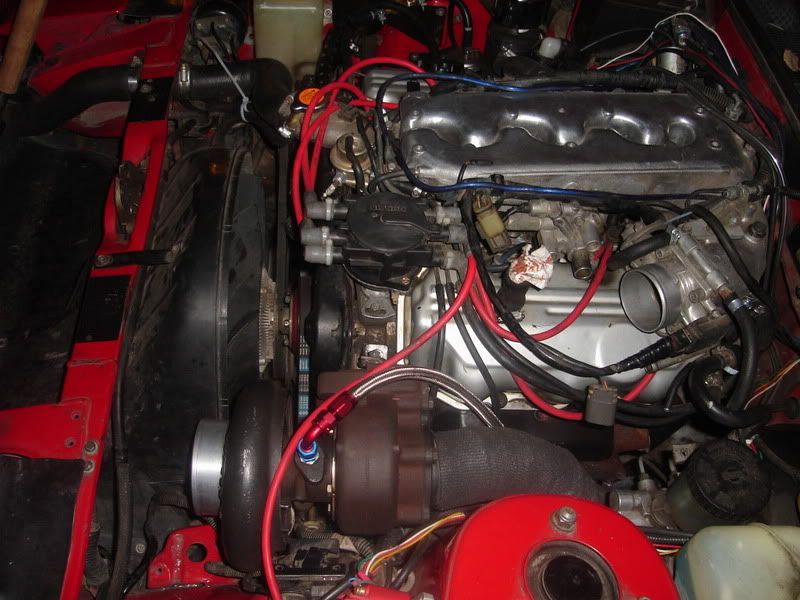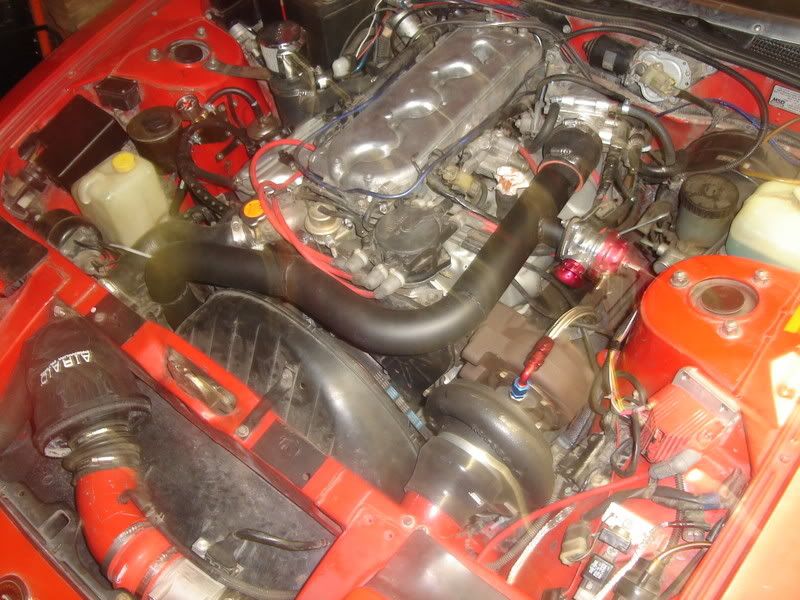 Ghetto oil fitting for my turbo

Doesn't leak. I bought one, but the car store told me it was a 1/2 npt thread and of course it wasn't. So I made this.
Going straight pipe for now until I get my muffler
Its awesome! N/A truly does suck! I've never driven a turbo charged car before this. Its, just too cool. I'm very happy, had to share.
Its a used holset hx35, stock 85 turbo injectors, turbo computer, ebay intercooler, waste gate, bov. Good couple hundred on piping and welding wire.
http://s27.photobucket.com/albums/c1...t=MOV04982.flv
I took a little video hoping you could hear the turbo or the bov. But the exhaust is too loud. I was being cautious too as you can tell from my 4500-5000rpm shifts lol
Car started so easy the first time, runs really good. Only two issues I have is...my timing was sooo incredibly advanced at first. I've tried to retard it as much as my distributor will allow, but it's still like 5* advanced? Its weird.
And then I think the N/A idle control devices are giving me some grief. Sometimes when I rev it up, or come to a stop. The engine will idle at 1600rpm and make almost a vibrating noise like...something is maybe opening and closing letting air in that shouldn't be there. I have a feeling I know what it is so I'll have to play around yet.
Do any of you have any insight on the timing thing?