My Z31 is nearly 20 years old, it has 130 thousand miles on it, it floats over bumps, rolls in the corners, and sags in the back...what Z doesn't? So a suspension upgrade is in the works and I'm just letting you know about it (b/c I'm bound to have some questions along the way)! Here is what I'm looking to for:
---Improved handling, feel, and response
---Stiffer ride but not too stiff
---Considerably less body roll
---Elimination of sag and excessive camber in the rear
---Adjustability: dampening, camber, toe, etc.
---Quality stuff that will last a long time
**Just to let you know, this is a 1987 Turbo Z31 manual 2-seater
**Also, since it seems to be a dividing line in the Z31 community, let me state this...I *do*want to lower my car around 1" (+?)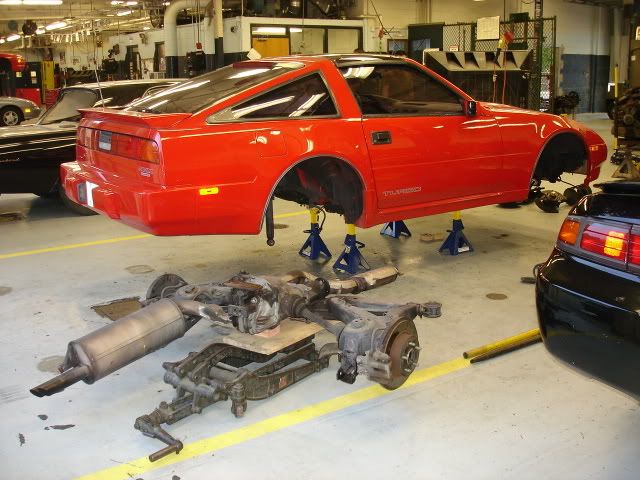 With that being said, I'm attacking the car's handling deficiencies head on with one fell swoop. This week my car was lifted in the air and it won't come back down till these problems are solved. You can see that I have already removed all of the suspension. Now I've been collecting the necessary parts and they are all here (except one that I'll tell you about in a sec)! Here is what I got:
---Polyurethane bushings, the full kit from Motorsports Auto plus the rear subframe bushings
---The off-center bolts from a junkyard Z for the ubiquitous camber adjustment mod on the rear control arm
---Some 1/4" iron bar stock to make the guides for said off-center bolts as well as a round file (a bastard if you will)
**This isn't really suspension...but I have Z32 4-piston aluminum calipers for the front, the 1/2" washers needed to center them over the rotor, stainless steel brake lines (front only) from PDM Racing, and front pads that will be going in too
**Also, at this point I am not planning to add any sway bars or strut tower bars...yet...just to let you know.
Now, you probably noticed one key ingredient missing in my suspension upgrade...springs and dampers. This is that "one" item I was referring to. The shocks and springs have not come in yet b/c I have not ordered them yet. I'm hung up on this part.